Why Patient Dignity Curtain Pegs?
Patient Dignity Curtain Pegs provide a low cost, effective solution to ensure patient privacy/dignity when used on bed surround curtains.
These pegs are specifically designed to be robust and clearly visible. They are also easily cleaned thanks to their practical design!
Manufactured from high quality materials these pegs will provide an extra-long service life.
New for 2020 - White with RED print to BOTH SIDES stand out even more than our original Red Pegs!
*Also available printed with any other Text or Logo - as special order from 100 units.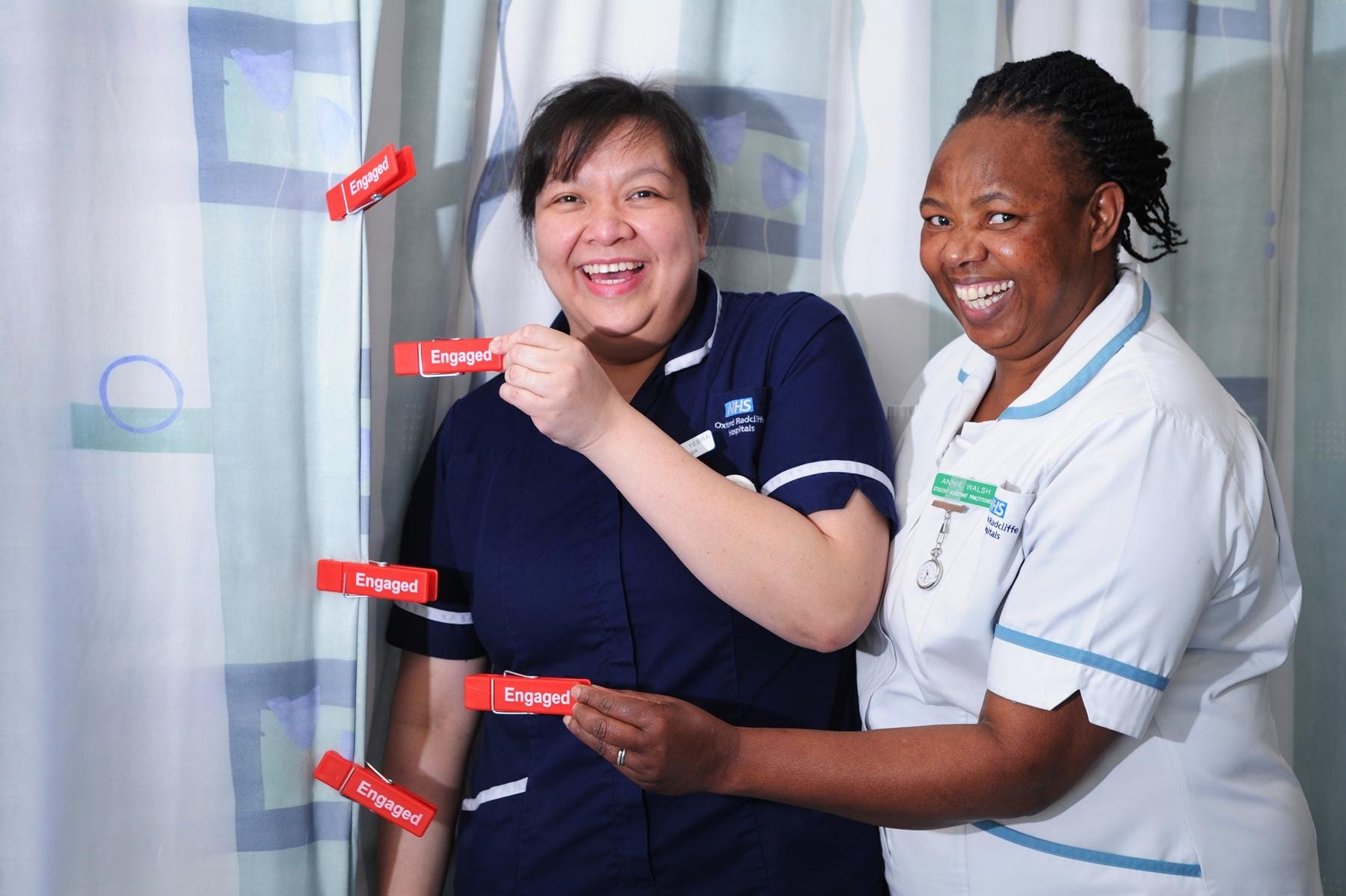 Dignity Pegs make staff stop & think
Staff at Oxford University Hospitals NHS Trust (OUH) marked a national Dignity in Action Day on Wednesday 1 February 2012, by rolling out privacy and dignity clips across its hospital sites.
The Nuffield Orthopaedic Centre (NOC) began using the pegs in its wards during 2011, and they were also trialled on Level 5 at the John Radcliffe Hospital (JR) last year.
Following the success of the trial period the pegs have now been rolled out across the whole of the JR, Churchill and Horton General Hospital sites. |
NOTE: From Jan 2020 Patient Dignity Curtain Pegs will be in the NEW & Improved White & Red Design.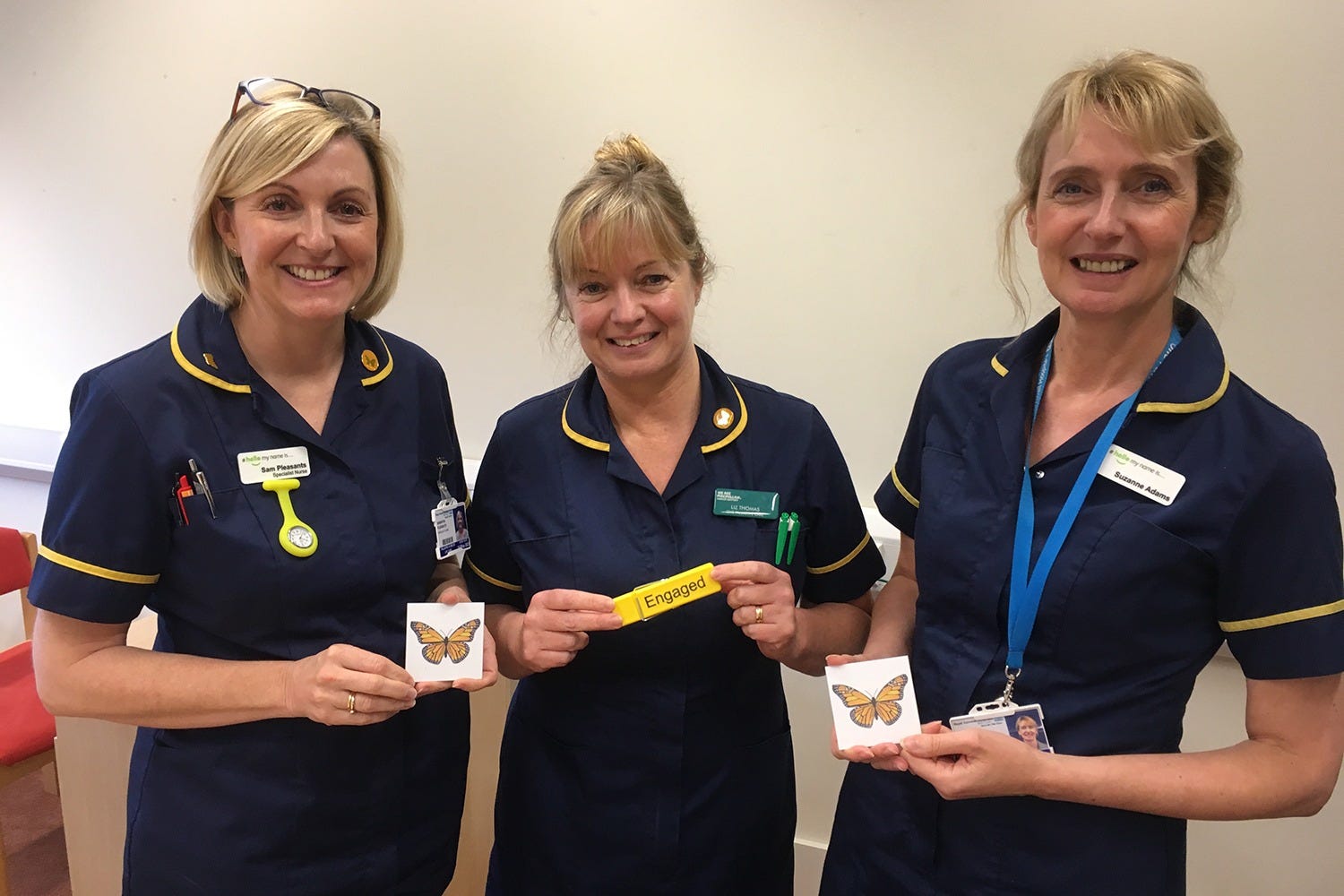 The Royal Cornwall Hospital - Engaged Patient Curtain Pegs
Included within the Butterfly scheme are discreet butterfly stickers which are placed on the bed space notice board or side room door as well as yellow dignity pegs for curtains to sensitively inform all of our teams that the patient is in the last few days of life – helping our teams to act with compassion towards the patient and their family at this important time.
NOTE: From Jan 2020 Patient Dignity Curtain Pegs will be in the NEW & Improved White & Red Design.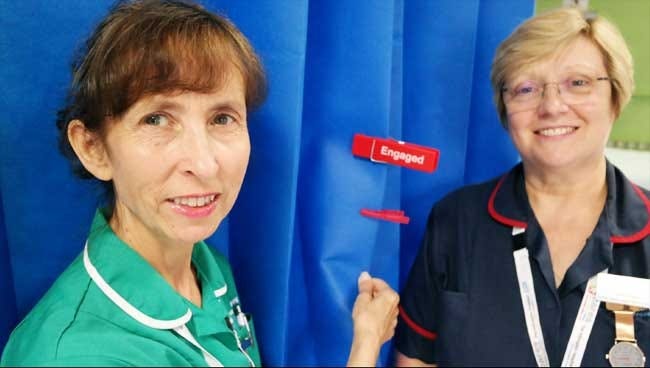 The Hillingdon Hospitals NHS Foundation Trusy (May 2019)
New Dignity Curtain Pegs to increase patients' sense of dignity.
Photo: The old pegs and the new, larger peg which is being piloted on Lister Ward.
A simple, low-tech solution could lead to big improvements for patients on the wards of Hillingdon Hospital.
Using large, red, plastic pegs printed with the word 'Engaged', the team on Lister Ward is clamping down on violations of patient privacy, unnecessary interruptions and loss of dignity. Senior Sister Debbie Peat;
"The standard NHS blue curtains are fine but the 'Do not disturb', 'No entry'-type symbol is too small. We wanted something that would protect patients' privacy more effectively,"
So Continence Nurse Specialist Christine Fitzgerald, who works with the Lister Team, did some research and reached out to colleagues at Oxford's John Radcliffe Hospital. They suggested the red peg scheme might be worth a look, and with a grant secured, Christine ordered 50 pegs for a pilot scheme.
She said: "We have had a very positive reaction from the patients and staff, and Debbie is up for most things, so it's going well so far." The pegs serve to stop unwanted and sometimes distressing interruptions, such as when a patient is dressing, having dressings changed or using the toilet.
NOTE: From Jan 2020 Patient Dignity Curtain Pegs will be in the NEW & Improved White & Red Design.